You know, or maybe you don't yet, all those things that end up on your to do list that YOU need to buy at some point before your wedding day? Well, think about buying local in Asheville. We have the best assortment of artisan goods, and you'll have that added touch of homegrown love.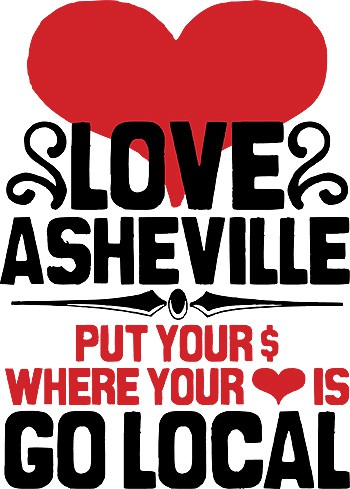 First things first, what are you wearing? Asheville is a community of unique designers and master goldsmiths. Consider collaboratively designing your dress or wedding bands with a local artist who can guarantee a one-of-a-kind piece. Ship to Shore Clothier is the studio of artist, designer, dressmaker and entrepreneur R. Brooke Priddy. Her designs are all original and collaborative with you! She is also known for incorporating heirloom textiles. You must take a look here! Then, there is Wildflower; this is not your ordinary bridal shop. And, while they do not make the dresses, you will have a very intimate experience that follows the process of translating your personal, everyday style into your bridal look. All collections are exclusive to the Asheville region, and some are even exclusive to the state and country! Distinctive and fashion-forward, Union is a local favorite boutique where you might find just that right garment or accessories for your rehearsal dinner. The ceremonious exchange of rings couldn't be more special than with a design exclusive to you and your love. For years, couples have gone to local artists for custom creations. Susan West of blue goldsmiths specializes in rings and is known for modern and non-conventional design. Jewels That Dance is home to the studio of local legend, Paula Dawkins. She is known for her intuitive and imaginative design. Van Dyke Jewelry is also a known fixture in downtown with custom work that focuses on balance, functionality and durability.
If it's important to you for your wedding guests to go away at the end of the night with something that says "thank you for coming," make it personal to your event and find it local to Western NC. The guests that enjoyed 12 Bones Smokehouse barbeque at your rustic barn wedding would love to take a small jar of their blueberry chipotle sauce home! Or, maybe your caterer sources their mustard from local producer Lusty Monk. You could even tie a thank you note with a recipe around the jar! If you ate breakfast, lunch or dinner at a local restaurant and homemade jam was a part of your meal, chances are it was made at Imladris Farm in Fairview, just a short drive from downtown Asheville. Many of our local caterers have pride using this local product as well. Other indigenous ideas might include locally produced honey and apple butter made with locally grown apples. After all, Henderson County is in the top ten apple producing counties in the nation! And, you must have noticed a local brewery (or twenty) during your visit to Asheville. Heck, you probably offered a selection to your guests at one of your weekend events!  Why not send them home with a logoed bottle opener? Or, everyone would love a set of truffles from bean-to-bar chocolate makers French Broad Chocolates.
Now, for some unique gift ideas for your bridal party and anyone else who may be doing something special for YOU during the weekend celebration. This city is chock full of local shops constantly curating unique items that are ever-changing. Check out Write On for a funky assortment of stationary and gifty paper goods. Speaking of paper, our treasured Malaprop's Bookstore/Cafe has been around since 1983 and is the purveyor of the most interesting collection you'll ever find. If you have someone with a more vintage, indie taste, you'll want to visit Hip Replacements and Honeypot, both downtown on Lexington Avenue. With a sense of humor and time to spare, don't miss L.O.F.T., where you truly could find something for anyone. Unique in their own right of local and handmade are Whist, Duncan and York Modern Market and Lexington Glassworks. If you feel you know someone well enough to buy a piece of art for them, then, by all means, you are in the right location. More than 200 artists work in the The River Arts District. Click here for a 2016 guide to all the artists, mediums and studio locations.
This may very well be the most fun you have during your entire planning process. Cheers to that!