Why choose Asheville and the mountains of North Carolina for your special event? So many gorgeous locations, so many weekend activities for your guests, the phenomenal culinary and libation scene and arguably the best picturesque natural beauty in the southeast…to name a few great reasons!
Maybe you are already envisioning what your celebration, meeting or special occasion will look like or maybe you are just hoping for some inspiration to lead you there. Either way, Western NC has it all (well, except the ocean)! We have unadulterated backdrops off of the Blue Ridge Parkway, family homesteads with majestic surroundings like Old Sherrill's Inn and Ivy Creek Family Farm, as well as very primitive, off-the-beaten-path venues with amenities, such as Brahma Ridge Event Center and Bend of Ivy Lodge. For an even more manicured look, check out Asheville Botanical Gardens and The North Carolina Arboretum. And, the rustic barn amidst the Blue Ridge Mountains…well, there are some spectacular choices in that category, namely Claxton Farm and The Farm – A Gathering Place. The beauty of being in Western NC is the opportunity to spend time in the mountains AND get a taste of the urban and outdoorsy cityscape with less than a 30-minute commute between the two.
If downtown is your scene, Asheville has some very sophisticated and some very sexy spaces. Modernized warehouses offer dramatic event environments in places like The Venue, On Broadway, The S&W and The Century Room. More intimate spaces, like the private dining room at Curate, The Altamont Theatre and a B&B (there's about 30 within the city limits) offer a cozy environment for smaller gatherings. The Omni Grove Park Inn offers the most volume of versatile meeting space around, with a host of after-hour activities right on the property!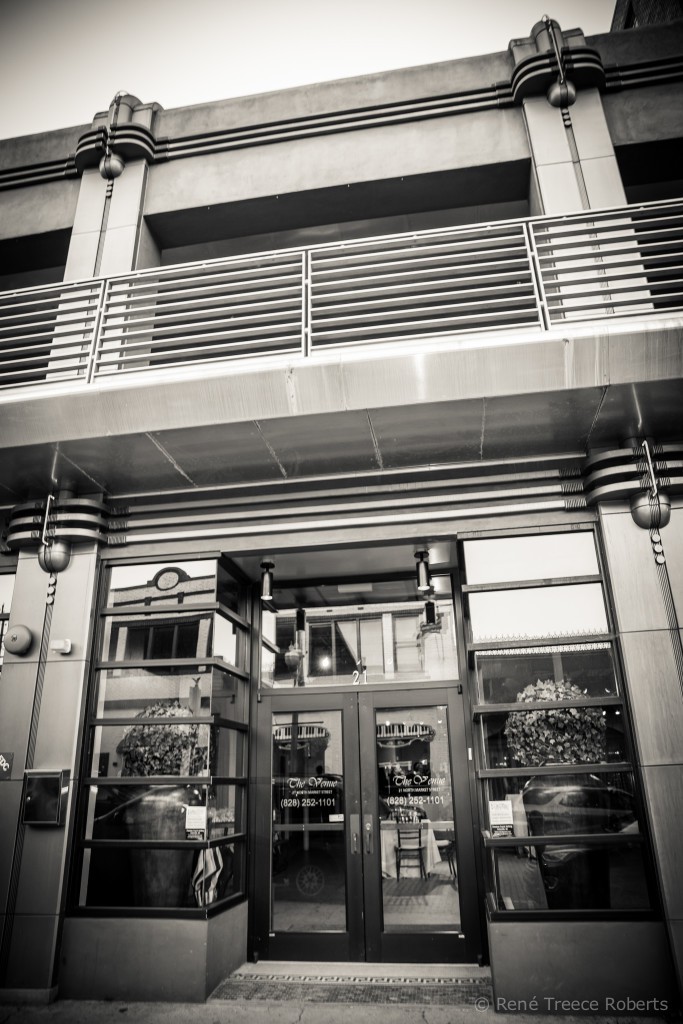 The River Arts District (RAD) boasts trendy and sometimes unusual spaces in galleries, restaurants and riverside. The Boathouse is a covered, outdoor space where you can walk right up to the moving water of the French Broad River, and it's also next door to a restaurant built solely of shipping containers. And, if you scout out this area, there are lovely urban gardens to be found.
Unique to Asheville is the country's largest privately owned home, The Biltmore Estate, which offers tons of event sites on the 8,000-acre property. Unique still, are the opportunities to get creative with some of WNC's craft breweries and wineries. Highland Brewing Co., Catawba Brewing Co. and Pisgah Brewing Company have even created dedicated space for your special occasion.
Creating a destination trip for your guests is where Asheville really takes the cake! Your guests may have as much fun as you. Hiking to the waterfalls of Graveyard Fields, at the Peak of Craggy Pinnacle or to the top of Mt. Pisgah and Max Patch will give you breathtaking views, and warm days call for a plunge down Sliding Rock. DuPont State Forest alone offers nearly 83 miles of multi-use trails, even some for horseback riding. For a faster pace, there are high-flying ziplines, The Gorge and Navitat, and world-class mountain biking and whitewater rafting.
After a day in the wilderness, take a break at one of the 22 local breweries where you will likely find one of our 60 eclectic food trucks in town. Take a stroll in The River Arts District (RAD) where 225 local artists make and sell their textiles, clay, glass, metal, photography and paintings. The Lift Studios, for instance, is chic industrial and is a showcase for the fine art of owner, Daniel McClendon. Or, jump on a trolley, segway or bus to tour the city and learn some neat stuff! Check out The Urban Trail, a variety of farm tours and Lazoom Comedy Tours.
The food scene is, well, a big deal. With over 60 locally owned restaurants, many are farm-to-table and source from our great local farms such as Spinning Spider Creamery, Hickory Nut Gap Farm and Sunburst Trout Farm.
Asheville and a surrounding 30-minute drive offers over 20 live music venues and plenty of local talent to impress all tastes. We are proud of our own here and take pleasure in sharing the plenitude of experiences!